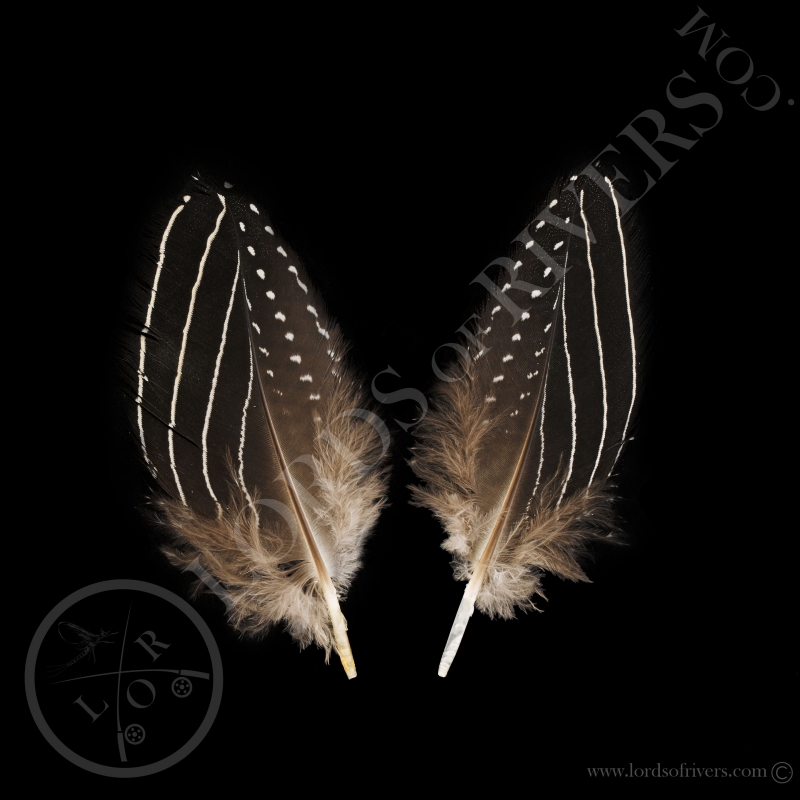  
Vulturine Guineafowl wing cover paired Lords Of Rivers
Vulturine Guineafowl wing cover paired S Lords Of Rivers.
Acryllium vulturinum
If there is one bird that we are in love with at Lords Of Rivers , it is the guinea fowl Vulturine ,colors ,textures shapes all fascinates in the feathers of it.
So many possibilities of Tying for streamers, salmon flies, pike or even extraordinary attack triggers on popper's carangues .
The hyper graphic lanceolate neck and chest feathers form large wings on Streamers and Stealheadl flies.
The body feathers have Lilac with white spots surrounded by black, they make beautiful wings on the Salmon flies, the color Lilac making all the difference.
Cobalt blue flank feathers are excellent for throats, or in windings such as hackles and collars on salmon and flies at Stealhead or sea flies.
Artisans, feather makers, jewelry designers will find many uses for this bird like dream catchers, earrings, hats.
Unlike other species of guineas, there are a wide variety of color patterns on this bird.