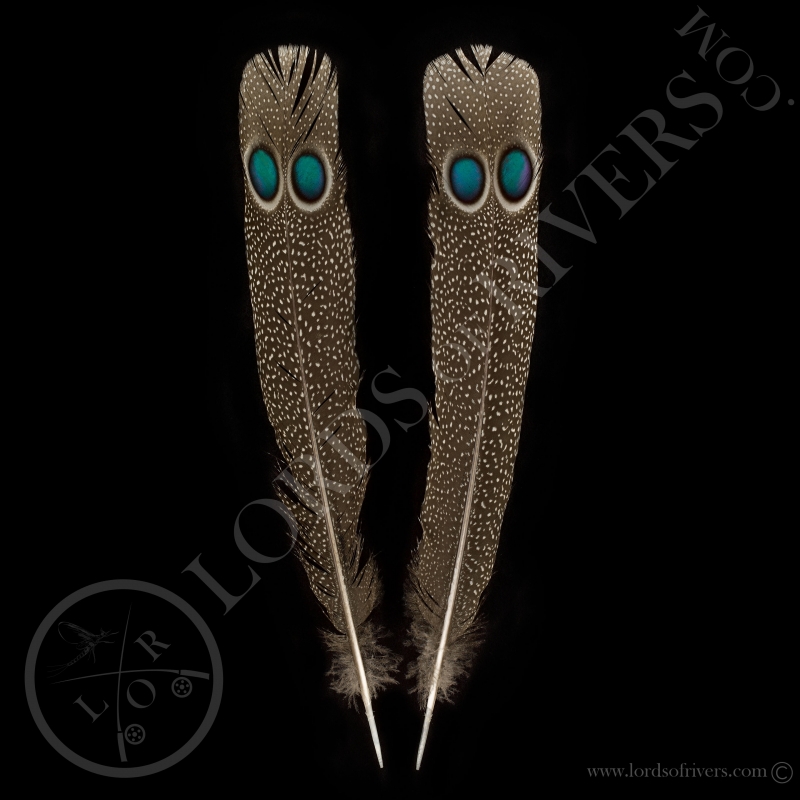  
Double eyed Side Tails Paired Grey Peacock Pheasant
Double eyed Side Tails Grey Peacock Pheasant
Polyplectron bicalcaratum
XL: 11.81/13.78 (30/35 CM)
L: 9.84/11.81 in (25/30 CM)
M: 7.87/9.84 in (20/25 CM)
S:  5.90/7.87 in (15/20 CM)
Dear Customers.
In full agreement with the rules of the Washington Cites Convention, we remind you that if you live in Europe sending feathers or bird remains classified Appendix II/B is done without formality.
If you live outside the European Community 1 export permit is required, we make the process free of charge but it takes up to 2 months.
For feathers and remains Classified Appendix A, the permit is mandatory regardless of your location and 1 permit of import and to be requested by you for all exits of France.
Today we no longer present Chinquis's Pheasant!
Become a very popular bird among artistic Victorian fly-fitters, salmon flies or streamers.
The variety of size of feathers with these characteristic purplish eyes; offers many uses such tail veilings, sides, cheeks and whole feather wings
The feathers of this bird appear in the manufacture of 5 splendid flies referenced in the Bible of Paul Schmookler in Vol.1 rare and unusual. 
Our feathers are first grade and all perfectly paired in size and patterns.